Lipsi Island

Area: 16 sq. km
Population: 600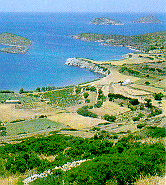 Situated in the Dodecanese only 55 minutes by ferry from Patmos, Lipsi, or Lipsos as it is sometimes known, is the largest of the minor islands to the north and east of Patmos.
Most of the inhabitants live around the pretty little harbour. It is here that you will find what few facilities exist on the island including a handful of tavernas, mini-market, post office and a couple of cafes.
Beaches are generally not crowded and sandy. The nearest, Lendou, is only a few minutes' walk from the harbour whilst Plati Gialos, Monodendri and Katsadia lie further a field and involve some footwork. Boat trips to neighbouring Marathi, Patmos and Leros are all possibilities but in the main this is very much a relaxing, doing little, unwinding holiday on what remains an unspoilt Greek Island.
>> Dodecanese Islands : Astypalea, Halki, Kalymnos, Karpathos, Kassos,
Kastelorizo, Kos, Leros, Lipsi, Nisyros, Patmos, Rhodes, Symi, Tilos.