Folegandros Island

Your port of arrival is Karavostasis and unfortunately its name is more inspiring than the place itself. However, after undertaking a short bus journey, you alight in the cliff-top village of Hora, a completely different world.

It is no exaggeration to describe Hora as one of the most beautiful, traditional villages of its kind. From the delightful shaded square outside the main gate, narrow alleyways lead to the inner precinct, an extraordinary square, borded on three sides by the backs of houses, the fourth a cavernous drop 700 feet to the sea with views that almost match famous Santorini. Hora is peaceful and quite up-market with tavernas and cafes to match.

A road stretches northwards from Hora, hugging the cliff-top and offering more breathtaking views before descending sharply to Vathi Bay where you can relax on a lovely, sandy beach.

History: The southernmost island of the Western Cyclades. lt lies between Sikinos and Milos. The mariners call it Poucandros. lt is an island full of mountains and sheer shores. It is separated in two parts by the gulfs Porto Vathy and Plaka.

The Mythology reports that the island was colonized by the Cretans with Folegandros, the leader, son of Minos. ln 425 the unification of the island with the Athenian alliance. The Romans are included to the conquerors of the island, which they used as a place of exile. It had been a part of the Duchy of Naxos for 400 years (1207-1607). Then the occupation by the Turks came until the Revolution in 1821.

>> Cyclades Islands : Amorgos, Anafi, Andros, Antiparos, Delos, Folegandros, Ios, Kea, Kimolos, Kithnos, Koufonisia, Milos, Mykonos, Naxos, Paros, Santorini, Serifos, Sifnos, Sikinos, Syros, Tinos.
Mykonos Island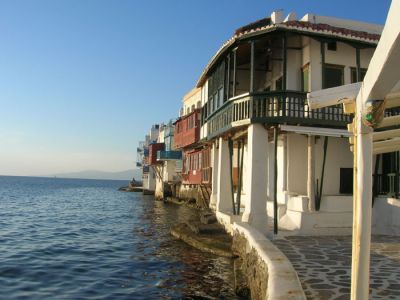 Ιt is the cosmopolitan center of the Cyclades Complex. Its reputation has spread during the last years due to its unique landscape, its archaelogical sites, its cosmopolitan environment and its magnificent beaches.
White-washed, cube-shaped houses are scattered all over the island, narrow streets in the town, chapels and picturesque tavernas hide among art galleries and stores selling jewellery, souvenirs etc.
Trends that sweep through the international scene are born in the intense nightlife of this modern resort.
An island of tempting and tempestuous reputation such as Mykonos, with high tourism and a rather superficial lifestyle, inevitably has both fans and critics.
But even the most unsuspecting visitor immediately realizes that Mykonos is not only a crazy "bon-viveur", but also an attractive, picturesque island with white Chora aside the crystal-clear blue waters of the Aegean Sea.
Direct international charter flights and regular domestic flights from Athens serve frequently, during summer, the airport of Mykonos.
Because it is so famous, Mykonos gets really overcrowded during high season but for those who enjoy the crowd, great fun and all night long entertainment, Mykonos is the ideal place for holidays.
Have a wonderful time...