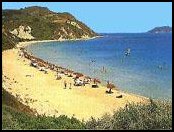 The best on the island. Tourism lives is relative harmony with the endangered Caretta caretta. A steep road leads to low cliffs and a beautiful crescent of golden sand. No watersports here - the bay is off limits to anything but a pedalo (worth a trip to turtle spot). The view to Marathonisi Island on a clear day is magnificent. There is little here except for a couple of tavernas on the approach, where you'll also find the Turtle Protection Society of Zakynthos (worth a visit).
Please note that the beach is off-limits between dusk and dawn.
Kalamaki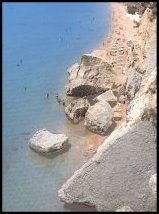 A long sandy beach with shallow water, this is a quieter beach than its neighbour, Laganas. Ideal for families, the only drawback is the aircraft flight path directly above. You can hear the engine noise from the taxiing aircraft if the wind is blowing in the direction of the village.
One of Kalamaki's plus points is the abundance of classy restaurants, bars and clubs. Head up to the hills during the evening and you'll find the great Byzantino Club, offering great views of the bay as you party the night away.
Laganas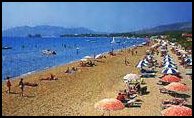 Laganas is the 'San Antonio' of Zakynthos. The nine kilometre bay hosts a long sandy beach which is very crowded in the summer. Beach entertainment is de rigeur here (although watersports are severely restricted) and the town itself is a deafening mixture of bars and nightclubs. Everything here for the livelier visitor! Very popular with English tourists.
Navagio (the shipwreck)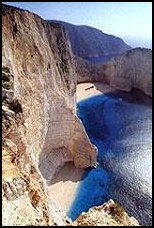 This beach is only accessible by boat and has become a regular stop on any island cruise because of the famous shipwreck. The water is very cold in this area (even in the height of summer) but the imposing cliffs make the place very atmospheric.
Porto Koukla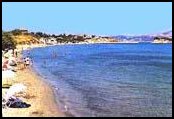 Further south from Laganas is the small beach at Porto Koukla. One of the quieter beaches on the island, its warm shallow waters are ideal for a relaxing day away from its busier neighbours.
Porto Roma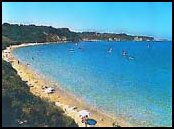 Porto Roma is a small sand and pebble beach with a small fishing port. Off the beaten track (most visitors head straight to Gerakas), before midday you can very often find yourself alone on the beach. Nearby you will find three excellent tavernas and a couple of small shops. Porto Roma is located 17 kilometres southeast of Zakynthos Town.
Tsilivi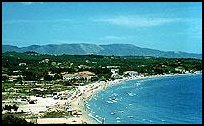 You can spend all day endulging in one of the many varieties of watersports on offer here. A long sandy beach with plenty of facilities nearby. Located 7 kilometres northwest of Zakynthos Town.