Preveza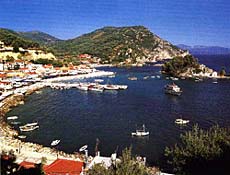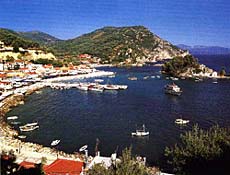 Preveza, is in the southern part of the District of Epiros. The capital is the city of Preveza. It covers an area of 1036 km2 and to the west is bordered by the sea. The land is in part mountainous, with its highest peak Mount Xerobouni (1607 km) and in part plain, with two rivers, the Aheron and the Louros, which create the artificial Lake Louros, in the northern part of the region. In the city of Preveza there are therapeutic springs for hydrotherapy, with extensive curative properties.
Parga lies 77 km (48 miles) from Preveza and 90km (56 miles) from Arta. It is a small, picturesque town built in a semi-circle round the bay. Flanked by small inlets, coves, sandy beaches and islets, Parga is surrounded by wooded hills. Parga has beautiful natural surroundings. Its hills are covered in olive, pine and cypress, a perfect complement to the attractive indented coastline and wooded islets just offshore. The town shelters behind a rocky headland crowned by a Venetian fort. An array of brightly canopied coffees and restaurants lines the waterfront. Behind, narrow lanes, small shops and old houses climb the hill.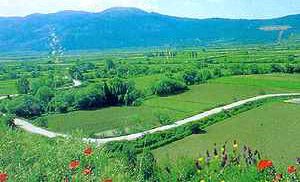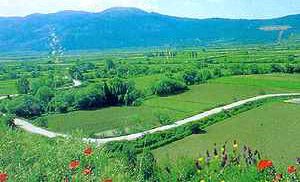 Night life is whatever you want to make it, from traditional taverns to lively music bars. There is a perfectly fine town beach, from which you can pedal or swim to one of the islands in the bay. However most head for magnificent Valtos beach just around the headland, or Lichnos further south. Both are long, sheltered and sandy, and have a full range of water sports. Water taxis shuttle inexpensively twixt harbor and beach. The more energetic can walk over the headland to Valtos in about 20 minutes.
Parga is an organized resort which holds great appeal for all ages and nationalities. It gets particularly busy in the high season (a five week period from end-July) and sometimes at weekends with Greeks. So far, Parga's character and charm have enabled it to survive its recent popularity.